Advertising/ Trade Show Bags
When you exhibit at a trade show, you need to do everything in your power to stand out. One of the best tools at your disposal is trade show bags – unique bags designed and customized to promote your products and enhance your brand appeal.
If you're looking for custom trade show bags, then you've come to the right place. At Bagmasters, we're obsessed with creating the perfect plastic trade show bags for your business. With us, you can buy trade show bags wholesale, providing you with full-color custom plastic bags that faithfully reflect your brand.
What Are Trade Show Bags?
Trade show bags, sometimes called advertising bags, are a select type of bag that you can use at tradeshows for packing products, handing out promotional gift bags, or advertising. Custom trade show bags are incredibly versatile, enabling you to promote your brand, advertise a specific service, or spearhead a cause. Our low-density poly bags with die-cut handle are the perfect low-cost way to provide your customers with a convenient way to carry their purchases with them from stall to stall.
It is notoriously challenging to stand out at a trade show, but with promotional plastic bags from Bagmasters, you can improve your chances. With our grab bags, you can attract customers, create more impressions, and let happy clients carrying your advertising bags across the rest of the trading floor.
When your bags have an eye-catching design, your customers want to know more about you and your products. Many people will actively seek out a company based on the attractiveness of its packaging alone. It's intriguing what could be so important that it demands the very best convention bags.
Companies also use trade bags because they continue to promote their businesses after the show. Customers return to their homes or place of work with your bags and generate more impressions for your firm. Some will reuse your plastic trade show bags many times, providing ample opportunity to get your brand in front of even more people.
Laminated Pouch Bags
Medical Packaging Bags
Reclosable Packaging Bags
Wicketed Bags
Why Choose Bagmasters for Advertising and Trade Show Bags?
There are all kinds of reasons for choosing Bagmasters for advertising and trade show bags. Take a look at the following.
Get Fast Lead Times

Finding a company that can make promotional bags fast is a challenge. Personalized plastic bags often have an extended lead time, and you're often waiting weeks, if not months for the bags to arrive.

With Bagmasters, though, it's different. We can create show bags for your promotional products fast using our state-of-the-art bag-making technology. With us, you don't have to wait for weeks for packaging to arrive. We give you the flexibility you need, even if you want to attend a trade show at short notice.

Fully Customize Your Trade Show Bags

If you want to stand out at the trade show, you need die-cut, full-color custom plastic bags that reflect your brand. With Bagmasters, that's precisely what you get. We provide you with promotional bags which accurately reflect your branding, logos, and corporate images, providing your customers with a seamless experience.

Need small plastic bags? With us, that's not a problem. You can customize the size of your bags to complement your bags perfectly.

Low Prices

Attending a trade show is expensive enough - you don't want high trade show bag prices, adding to the burden. At Bagmasters, we've worked hard to be the most affordable advertising bags company in the industry, offering a wide variety of options for practically every retail store. Get in touch with us today to find out just how little it costs to source your trade show bags wholesale from us.
Buy Advertising and Trade Show Bags from Bagmasters Today
It should be easy to buy trade show bags - and with Bagmasters, it is. We offer a range of plastic trade show bags to suit practically every niche. What's more, with us it's easy to customize your bags. You can brand all your trade show bags and spread your message far and wide, well beyond the event itself.
At Bagmasters, we have more than three decades of experience working with customers to deliver fabulous bagging products. We take the guesswork out of ordering advertising and trade show bags and put you in the driving seat. With us, you can create the perfect bagging campaign to complement your business.
If you haven't invested in tradeshow bags, it's never too late to get started. Get in touch with Bagmasters today for the most aggressive lead times in the industry and supercharge your advertising campaign
Ordering Is as Easy as 1, 2, 3
1. Select Bag Type
2. Artwork for Print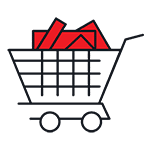 3. Add Options
Rethink Your Packaging and Supply Chain
We provide comprehensive packaging and supply chain solutions for producers of consumer product goods.