What's the most critical part of any business, no matter the industry? Advertising and marketing. The best place to do that on a full scale is at trade shows!
When you have a booth at a trade show, you want to maximize your marketing potential. Promotional materials are the best way to do it, including plastic custom trade show bags. Are you on a tight budget? That's not a problem!
The great thing about plastic trade show bags is that their uses are nearly endless. For every size you can find, there are multiple ways to use it. You can even buy trade show bags wholesale!
What Custom Advertising Bags Are and Why You Need Them?
Plastic advertising bags, like the ones we can print for you, are now the top promotional item for trade show booths. Their popularity grows every year, and they have so many uses.
You can get trade show bags wholesale, all without breaking the bank. These carriers are a great way to get the word out about your business. At these exhibitions, people can get bogged down with brochures and other reading materials from all the booths around them. Why not stand out and give them a brand new bag, custom printed with your advertisement?
Perhaps your business is the one handing out the brochures or a few giveaways. No problem! Package up all of your promotional items in one of those custom carriers. Whether you're merely passing out information or offering fresh swag items to event attendees, these satchels are a necessity. They are a perfect way to advertise your business and give potential and current clients a way to keep all of their items neat and organized.
Another great thing about custom advertising bags is that everyone around them will see your logo, too. Without any extra effort, word will spread about your company, and people may come by asking for a bag of their own.
The power of word-of-mouth advertising is why it is so essential to make your trade show bags high-quality. The advertisement represents your brand. We have several sizes and colors to choose from, so you can easily find the perfect bag for custom printing your next ad!
Reclosable Packaging Bags
Wicketed Bags
When it comes to trade show bags, you want something custom-made that will draw in customers old and new alike. We can help! We have printed custom trade show bags for thousands of clients across all kinds of events. We can print many different types of bags, from plastic to imprinted to header bags and beyond.
All you have to do is send us your message or picture that you would like to use. We offer design assistance for Artwork Layout. The only thing you need to take care of is, the artwork that you'll send us must be in an illustrator.
Please note that we don't offer design services. Instead, we leave the savvy design and decision-making to you and deliver your vision, just as you've requested.
Our plastic bags have 8 Color Printing options available on both sides, and we make all of them exclusively from high-quality materials for the best look and durability.
Ordering Is as Easy as 1, 2, 3
1. Select Bag Type
2. Artwork for Print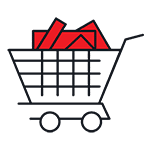 3. Add Options
Frequently Asked Questions
We manufacture/convert low-density poly bags in a variety of options. We offer pre-opened bags on a roll, wicketed bags, lay flat poly bags, reclosable zipper bags, bottom and side gusset bags, custom printed bags, and plastic sheeting. The bags are made from FDA approved materials (unless otherwise requested) and can be used for a variety of applications.
The minimum order is based upon weight. Since all orders are customized to your specifications, we bring in film specifically for your order. The minimum is 500 pounds of film.
Yes, We specialize in custom printed bags
You would supply us with artwork and we send your artwork to our plate maker to create a final proof for your approval.
Contact us immediately if you notice something wrong with the bag.
What People Are Saying About Us
Excellent 5 Based on 15 reviews and ratings based on Google, Facebook, Yelp, Super pages & Merchant Circle.
Contact Us Today for a Quote
A savvy business owner understands the real value of a custom printed bag—they are a great way to advertise, and they provide a service of their own, too. Don't wait until the last minute. Contact us today for a sample or a quote and give us a call before you plan your next trade show!