Why Order Resealable Plastic Bags?
Reclosable plastic bags are useful for many things, including holding and securing small items and parts. The reclosable feature makes it accessible while still keeping everything safe from scratches or spillage. Some of the top features of our resealable bags include:
We believe in giving our customers the best quality reclosable plastic bags. Our commitment to quality is why we go the extra mile to ensure our bags are reliable, cost-efficient, and durable.
Wicketed Bags
Pre-Opened Bags on a Roll
Don't settle for supermarket sandwich bags. Our bags stand out from the rest because we make them with polyethylene and build them to last. 
Unlike open-mouth sacks, our bags allow you to press the bag closed and seal it. We use several unique features in our reclosable plastic bags to increase visibility while still keeping the contents secure. These features include:
Our bags are available in a range of sizes to hold whatever you need. They're easy to open again and again. We also know that sometimes, you need a thicker bag to protect what's inside, so we offer both 2 and 4 Mil thickness.
You won't find the sizes and thickness options we offer in stores because our quality is above the rest.
Companies and consumers alike have found that resealable plastic bags are one of the most durable options out there while also meeting a variety of needs. Some of the most common uses for reclosable poly bags include:
We've tested our products on strict parameters to confirm they will meet the needs of our customers. Through a rigorous design and testing process, we ensure these bags can be resealed multiple times.
When you're using our resealable plastic bags, you won't be disappointed. Our products stand out by offering numerous advantages:
What matters the most to us are service, quality, and price. By offering unique features like extra-thick bags, custom reclosable plastic bags with text or design, stand-up pouches, and more, we're sure our products will impress you with their versatility, strength, and finish.
Ordering Is as Easy as 1, 2, 3
1. Select Bag Type
2. Artwork for Print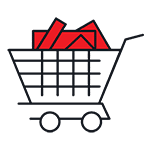 3. Add Options
Frequently Asked Questions
Yes, We specialize in custom printed bags
You would supply us with artwork and we send your artwork to our plate maker to create a final proof for your approval
Contact us immediately if you notice something wrong with the bag.
As each order is customized we are unable to accept returns because they changed their minds I think we need to say something about how we guarantee our product.
The minimum order is based upon weight. Since all orders are customized to your specifications, we bring in film specifically for your order. The minimum is 500 pounds of film.
What People Are Saying About Us
Excellent 5 Based on 15 reviews and ratings based on Google, Facebook, Yelp, Super pages & Merchant Circle.
Contact Us Today to Learn More!