Reclosable Packaging Bags
If you're looking for high-quality reclosable packaging bags, then you've come to the right place. Bagmasters has a range of options to suit your needs, whatever they may be. Offering a variety of benefits to your company and your customers, you'll find that reclosable poly bags, food packaging, or zip locking bags — whatever you need — can help to push your company forward, in some small way. From the safety and freshness of your product to your customer's convenience, these modern types of bags are a common trait among forward-thinking companies. Don't be left in the past, using outdated packaging methods: upgrade, and improve the perception of your business.
Various Options
No matter what it is that you're selling, you'll find that we have the right option for you. We have a range of sizes available, which means that you don't need to sell your products in packages that are too large or small for what's contained inside. The packaging can often feel like an afterthought for many companies, but they're an essential component — aside from influencing how your customers view your business, the packaging also contributes to the freshness and safety of your products. With a focus on durability and usability, our bags can help to solve the riddle of your packaging issues. Get in touch to find the option that's right for you.
Everyone knows the importance of keeping the customer happy. And this is about more than just making sure they're satisfied with whatever it is they've bought from you: it's about those thoughtful extra touches that elevate the transaction in their eyes. The bag for your product will contribute to their thoughts and impressions, for one simple reason: they make a difference. They're more convenient for customers than non-resealable options. It's in the name. The traditionally sealed bags aren't all that customer-friendly since they had to be torn into with the customer's bare hands — potentially causing the contents inside to fall away. The type that can be closed again makes it much more comfortable, since it's, first, obvious where the package needs to be opened. Then, if they're not going to use the item straight away (which is often the case), they can put it back in the bag, seal it up, and take it home or work with them.
If you're in the food industry, then you'll know just how important it is that your goods are fresh. Your food is only delicious when it's at its purest: if it's stale or lost some of that freshness, then your customers will not be happy with what they receive. As such, you must be taking extra care with your food packaging. It should ensure maximum freshness for the goods that you're providing, be it nuts or dog food. Additionally, you'll want to think about how the packaging looks, too. Stand up pouches are particularly recommended, and especially so if the item is going to be stocked on the shelf.
We all know that we need to take more care when it comes to the environment, yet while there is some responsibility for consumers, it's companies who should be leading the charge. You can show that your company has an environmentally friendly edge by investing in the best quality, resealable packaging for your goods. There is nothing inherently wrong with plastic bags. The problems arise when they're only used once. By ensuring that your packaging can be used again and again, you'll have removed that problem.
And what's more: it'll be good for your bottom line. Studies have shown that customers are increasingly less likely to give their money to companies who fail to exhibit a social conscience. By providing packaging that isn't just single-use, you'll be helping your customers to live a more carbon-neutral life, which is what they want — and which the world needs.
Finally, let's not forget that custom printed packaging or a printed bag can help reinforce and solidify your company's branding. Your branding only works when it is watertight; everything that your company shows to the world has to be infused with your branding, which will reflect your values and mission. While there's no high crime in having clear, brand-less packaging, think about how much more of an impact it would make if you have custom-made packaging that has your name and logo on the front. It'll keep your brand in your customer's mind.
Laminated Pouch Bags
Wicketed Bags
Pre-Opened Bags on a Roll
Medical Packaging Bags
Ordering Is as Easy as 1, 2, 3
1. Select Bag Type
2. Artwork for Print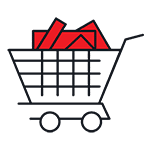 3. Add Options
Rethink Your Packaging and Supply Chain
We provide comprehensive packaging and supply chain solutions for producers of consumer product goods.