Bagmasters Is Your Premier Manufacturer and Distributor of Wicketed Bags
Designed to increase production packaging speeds (as compared to flat poly bags), wicketed bags can be used with a bag opener or drop sealer, as well as manually.
Wicketed bags are manufactured using a lip in which 2 holes and a metal wicket secure the top of the bags together. This unique design creates a pre-opened bag that, when filled, can be torn away, leaving the next bag ready for filling. You don't have to waste valuable time selecting a bag from a box, then try to find the opening in order to fill it.
Custom Print Available
Minimum Size = 5″ X 8″
Maximum Size = 24″ X 36″
Available in 1 Mil to 6 Mil Thickness
Bottom Gusset Option
Vent Holes or Hang Holes Available
Perforations Available
Increases Production Packaging Speeds
Also Known As:
Bakery Bags
Bread Bags
Ice Bags
Header Bags
Staple Pack Bags
Food Bags
Why Choose Bagmasters for Your Wicketed Bags?
We Use FDA-Approved Materials

If you operate in the food industry, then you need wicketed bags that are food safe. Safe bags are a priority. At Bagmasters, we only use FDA-approved materials for our food packaging, including our wicketed bags. We don't want dangerous chemicals leaching out into customers' food any more than you do. We only use specialist plastics that do not pose a risk to public health. You can use our wicketed backs for food packaging, medical devices, and industrial products.

Get Your Wicketed Bags Customized

It can be hard to find a bag manufacturer that allows you to custom print your branding and logo on a wicketed bag. But with our state-of-the-art printing technology, you can. Our clients use our customization facilities to brand everything from sandwich bags to coffee cup lids.

Do you want to include perforated holes in your plastic bags? No problem: we can make perforations to your specifications. Do you need zipper closures or vent holes? Just let us know: we can create custom runs of 250 bags or more.

Affordable Wicketed Bags

Finding affordable customized wicketed bags is vital if you run a food service business. You need to provide your customers with packaging options that don't eat into your margins. At Bagmasters, we've been investing in technology for decades that helps to bring down the cost of manufacturing wicketed bags so that you have more money left over at the end of the month.

Get Wicketed Bags for a Variety of Functions

While manual wicketed bags are fashionable, we also create wicketed bags that you can use with a drop sealer or bag opener. We can tailor wicketed bags to integrate with your existing production facilities seamlessly.

Rapid Lead Times

If you need custom wicketed bags, you don't want to have to wait for weeks to get them. You want them as soon as possible so that you can start packaging up products and distributing them to your customers. At Bagmasters, our state-of-the-art manufacturing technology can deliver food-grade wicketed poly bags to you in record time. Get in touch with us today to find out how rapidly we could supply poly bags to your enterprise.
Buy Wicketed Bags From Bagmasters Today
If you'd like to start benefited from wicketed bags from Bagmasters, then get in touch with us today. With more than thirty years of experience in the industry, we won't let you down.
Ordering Is as Easy as 1, 2, 3
1. Select Bag Type
2. Artwork for Print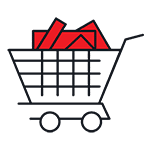 3. Add Options
What People Are Saying About Us
Excellent 5 Based on 15 reviews and ratings based on Google, Facebook, Yelp, Super pages & Merchant Circle.
Rethink Your Packaging and Supply Chain
We provide comprehensive packaging and supply chain solutions for producers of consumer product goods.