Our Pre-Opened Bags on a Roll can be customized to your specifications. Choose your thickness (mil), size, and custom print! It is that easy!
Pre-Opened Bags come perforated on a roll with one side open for easy product inserting to run on manual or automatic bagging machines. We can also manufacture them to be fan-folded for your convenience. Bags on a Roll are also available without the pre-opened feature.
Custom Print Available
Minimum Size = 3″ X 5″
Maximum Size = 25″ X 40″
Available in 1 Mil to 4 Mil Thickness
Pre-Opened or Just Perforated Option
Vent Holes or Hang Holes Available
Perforations Available
Increases Production Packaging Speeds
Why Choose Bagmasters for Pre-Opened Bag Rolls?
When it comes to pre-opened bag rolls, there's only one choice: Bagmasters.
Here are just some of the reasons you should choose us for high-quality pre-opened poly bags.
Choose Your Thickness

Not all bags on roll manufacturers allow you to select the thickness of your bags, but we do. With us, you can choose the width you need for your bags and get the right packaging solution for your application.

Choose Your Size

You need bags that fit seamlessly into your production process. With us, you can choose the size of your pre-opened bags, letting you slot them directly into your operations without having to recalibrate or retool.

Choose Your Print

Would you like your pre-opened bags printed? We offer custom bag printing services for all of the pre-opened bags in our range. Don't just rely on generic bags: connect with your customers with beautiful artwork and designs. Make your bags special and unique.

Competitive Pricing

When it comes to your flexible packaging needs, you want prices to be as competitive as possible. We offer among the most competitive prices in the industry for pre-opened bags on rolls while at the same time, giving you enormous flexibility.

Short Lead Times

When you need poly bags, you don't want to have to wait for weeks for your supplier to retool. You want a packing supply partner who can start creating the bag lines that you need immediate. With Bagmasters, that's precisely what you get. We offer among the shortest lead times in the industry, 3-6 weeks, including for bags of different custom sizes and shapes. By reducing lead times, you get the bags you need in record time and don't have to put up with delays in production.
Choose Bagmasters for Pre-Opened Bags on a Roll Today
Finding quality bags on roll manufacturers can be difficult. You can often spend hours searching for a reliable partner, only to wind up disappointed.
At Bagmasters, we've been in the business of producing industry-leading packaging systems since 1987, and our pre-opened bags on a roll have led the charge. Thanks to our state-of-the-art manufacturing equipment, you can get the bags that you need in record time. Get in touch with us today to find out more about our bags on a roll and how you could start saving money with us today.
Ordering Is as Easy as 1, 2, 3
1. Select Bag Type
2. Artwork for Print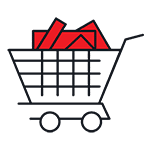 3. Add Options
What People Are Saying About Us
Excellent 5 Based on 15 reviews and ratings based on Google, Facebook, Yelp, Super pages & Merchant Circle.
Rethink Your Packaging and Supply Chain
We provide comprehensive packaging and supply chain solutions for producers of consumer product goods.